STEAM Week 2022 Recap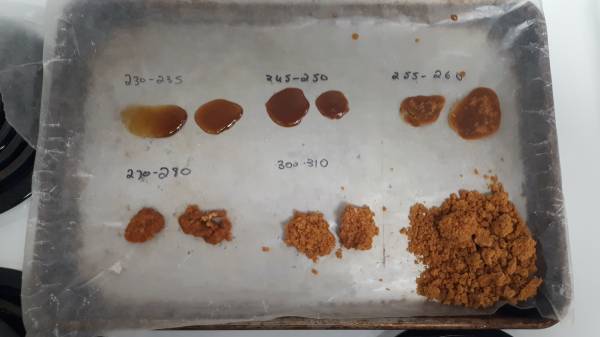 May 9-12, 2022 was STEAM week at SCIDES and we hosted a total of 9 amazing workshops. Here is a recap of the week:
STEAM Day 1 Recap...did the egg break?
STEAM Week Day 1 has wrapped up. Thank you teachers for the great workshops! Thank you students for joining in and having fun!
On Day 1, students learned about the science of maple syrup and then made their own maple syrup candy with Mrs. Tilt, all while doing an experiment! There may be a few pots to scrub clean now, but there was also a lot of yummy maple candy made. Check out the picture for some of the samples that were taken at different points of the experiment.
Next, Mr. Hart and Mr. Hermiston explained the rules for the 2022 Egg Drop Challenge. They even showed us their E.S.D. (Egg Saving Device) that included elastics, Tim Horton's cups, and other random things from Mr. Hart's desk. After the rules, they went outside to deploy their ESD. They have a great design going, but let's just say, they have a bit more work to do before it is a real contender in the Challenge.
STEAM Week - Day 2 Recap...head in the clouds!
Another great day for STEAM Week!
This morning students built their own ghost-buster video game, complete with sound effects! Mrs. Aubin and Mr. Oram led the way to teach how to code. It was a steep learning curve, but everyone helped each other out and tried out a new skill. For more coding fun, join Mr. Oram on Thursday! The image shows what coding your own game in Scratch can look like.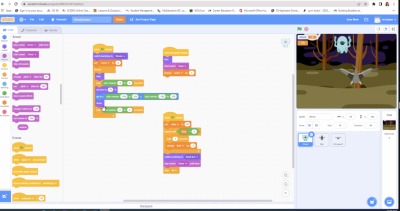 Then, Mrs. Southwell took everyone high into the clouds to help us understand just how clouds work and why they are so important to our earth's climate. She started by asking us this "3 Truths and a Lie" question. Can you get it right? (Answer below)
- One cloud can weigh 500 tons
- Clouds only occur in the Northern Hemisphere
- Clouds are tighter than air
- Clouds are made of liquid, not gas
(The lie? Clouds only occur in the Northern Hemisphere. This is not true!)
STEAM Week - Day 3 Recap
Day 3 of STEAM began with some magic! Mrs. Parenty even managed to trick Principal Goetz with her magic. Students learned to perform 3 magic tricks…all of them making use of math to surprise and wow an audience. One trick made use of the Fibonacci sequence, which is found throughout nature.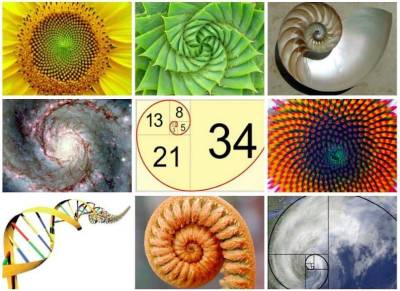 In the afternoon, the paints came out and we tried our hands at printmaking. Using styrofoam students carved designs into styrofoam pieces and used these to make prints onto paper. The results were beautiful and colourful! It was great to see the innovation everyone used to make up for missing supplies. One student used a potato instead of styrofoam, and it worked out great! Here are some of the art projects: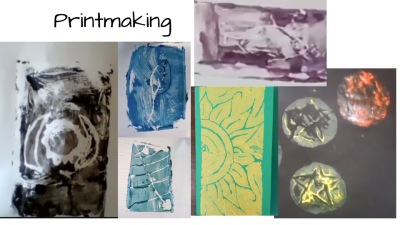 STEAM Week Day 4 Recap - it was gigantic!
STEAM Week wrapped up today with 2 more workshops. Ms. Lowe and the primary students examined many clues to figure out that the fossil they found was from a Hadrosaur. They were so excited to help solve the mystery.
Mr. Oram hosted Level 2 of coding your own video and taught students how to create their own version of the Flappybird video game. The coding was complex, but students kept up and had their birds flapping up and down, dodging obstacles on the screen. It was so impressive!
Today was the final day of our STEAM Week Workshops - we hosted a total of 9 unique workshops. A huge THANK YOU to our SCIDES teachers for their enthusiasm in sharing their passions with us.