A Fresh Start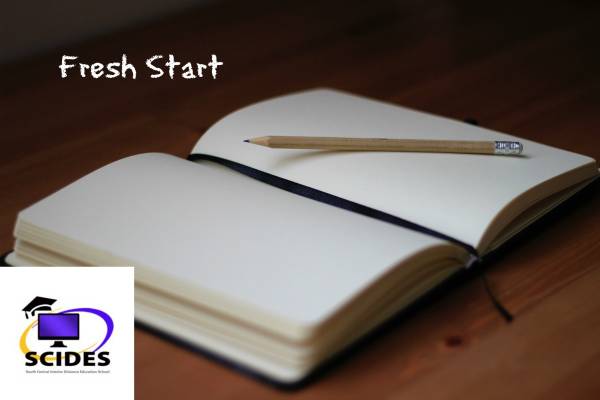 A new school year is here and in so many ways it's a fresh start. A new way of doing school (though SCIDES has been offering online support and instruction for over 20 years), a new way of organizing our lives around a pandemic, and a fresh chance to be better citizens of the world who care for and accept others.
The COVID-19 Pandemic has both slowed down and sped up life as we knew it before March of 2020. The last six months have been a challenge for all of us, and we want to start the new school year by offering our support and perspective on what's to come. Each month will have a different theme and we'll share our insights as well as some resources for you to dive deeper into the topic.
Here's to a fresh start and successful school year – let's do this!
September Resources
Blogs and articles
10 tips for the new school year:
https://www.ditchthelabel.org/10-tips-fresh-start-school/
Why a fresh start is sometimes the best and five tips to make it successful:
https://www.psychologytoday.com/ca/blog/tech-support/201403/5-steps-fresh-start
A look at different areas of life and how to start fresh:
https://daringtolivefully.com/reboot-your-life
Tips for a successful academic year:
https://inomics.com/advice/10-tips-for-a-successful-start-to-your-new-academic-year-742715
How a fresh start is possible and why it's necessary:
https://cultivatewhatmatters.com/blogs/cwm/starting-fresh-how-it-s-possible-and-why-it-s-necessary
Podcasts
A list of seven podcasts about starting fresh – for work, life, health, and fitness:
https://junkee.com/best-podcasts-fresh-start/143069
Hidden Brain podcast by NPR about people who had extraordinary fresh starts:
https://www.npr.org/2018/07/11/627635045/fresh-starts
Books – look for them in your library
Atomic Habits by James Clear – how tiny changes in your life can add up to something big.
https://www.chapters.indigo.ca/en-ca/books/atomic-habits-an-easy-proven/9780735211292-item.html
The life-changing magic of tidying up by Marie Kondo – how only keeping things (and habits) that spark joy in your life move you forward.
https://www.chapters.indigo.ca/en-ca/books/the-life-changing-magic-of/9781607747307-item.html
1,001 Ways to Slow Down by Barbara Ann Kipfer – inspiration for those who feel overwhelmed and want to relieve stress, adopt habits, and find balance.
https://www.chapters.indigo.ca/en-ca/books/1-001-ways-to-slow/9781426217791-item.html
The Power of Kindness by Brian Goldman – what it truly looks like to be kind to others and yourself and how it can change your life.
https://www.chapters.indigo.ca/en-ca/books/the-power-of-kindness-why/9781443451062-item.html
Insights from the SCIDES team
"Fresh starts, for me, often mean a thousand different things to do. When I leave my mind there, it is easy to feel overwhelmed. Keep in mind that not everything must – or should – happen at once. Yes, there are usually priorities; make sure those happen. But for the details, add them as you hit your stride in the necessities. These are the flowers on the table, not the meal. They can make a wonderful difference, but aren't the most important detail when planning a dinner party. First things first, but keep the plan moving forward." ~ Karen Goetz, principal
We hope you find those resources interesting and helpful, and invite you to share your thoughts on our Facebook page. As always, we're here for you and look forward to connecting with you. Get in touch with us at 1.800.663.3536 or registrar@365.sd58.bc.ca.